Custom Wheels with LED Wheel Lights: See How Awesome They Look!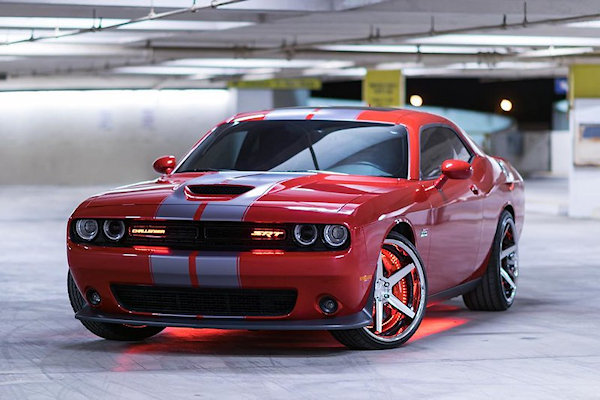 LED wheel lights are an amazing way to add some eye-catching flair to your vehicle. Show off your car or truck as you cruise the street with these bright wheel lights available in different colors. If you have custom wheels, these wheel lights are the perfect way to highlight and show off your wheels. Heads will definitely turn to see your car or truck once you have these installed.
Our universal wheel light kits will fit almost any make or model. We have one kit for wheels and tires that are 18" or smaller and another kit that will fit wheels 19" and larger. These products consist of (4) LED illuminated aluminum rings that mount around the brake rotor and attach to the dust shield. Even if your vehicle is an older model with drum brakes or without brake dust shields, these can still be modified to fit your vehicle.
---
---
Our ORACLE wheel lights come in a variety of colors. Our 19" and larger set is available in amber, aqua, blue, green, red, white, and "colorshift." The 18" and smaller set is available in "colorshift" which gives the effect of having different colors.
The product comes with everything that you need to complete a smooth and simple installation. You'll get (4) LED wheel rings, brackets, screws, cables, wiring hub, switch, and installation instructions and video. This is absolutely everything that you need to easily get your lights installed and up and running.
If you run into any problems during installation, our free technical support is always ready and willing to assist. We also back our LED wheel lights with a one-year warranty, so you can be assured that this product is built to last. If any issues do come up, we've got you covered.
These wheel lights are the perfect way to show off your wheels and tires at the next car show. They will vibrantly light up your wheel wells with the super bright 2835 LEDs that are used in these lights. While they are designed to withstand high temperatures, the lights are not intended for on-road usage. Check your local laws for proper usage of this product. Simply switch off the lights while you are driving on the road, but the rings remain installed at all times.
You will be the envy of your friends after you install these. Nothing will bring out the shine of your car, truck, or SUV more than these bright LED wheel lights. Select a color that matches your vehicle or choose the colorshift option so that you can change the color on the fly. You will love to see nightfall coming so that you can show off these wheel lights.
Even though these wheel lights are not meant for on-road usage, you will be able to leave the lights installed permanently. The aluminum rings can withstand high temperatures and are built to last. They are durable and can stand up to the wear and tear of everyday driving. When it's time, simply flip the switch and your wheels and tires illuminate with these amazingly bright LED lights.
You can slow cruise through the car show or parking lot, and everyone will have their eyes on your vehicle. These are great for drawing attention to custom wheels or showing off that new paint job. The shine from these wheel lights will reflect off your freshly polished paint to complete the look. The lights will certainly add even more dimension to your mirror-finish.
Installation is a breeze with these universal kits. They will fit nearly any size and type of wheel or vehicle. Simply order the correct size (18" and under or 19" and larger). The included screws and brackets allow you to mount these right onto the existing brake dust shield on your vehicle. If your vehicle does not have a brake dust shield, you will have to perform a little bit of extra fabrication in order to get the fit just right.
Don't wait to order your LED wheel lights today! Show off your vehicle like never before with these lights and become the envy of your local car show and or car cruise. After you get these installed and see how amazing they look, you will wonder why you waited so long to get them in the first place.
---
RECEIVE A $20.00 DISCOUNT ON A SET OF
WHEEL LIGHTS: USE COUPON CODE: BLOG20