Ford Transit Van; Here's why this is a must have item!
If you own a Ford Transit van, you already know how much of a workhorse it is. Designed to haul both cargo and passengers, this van will get the job done. However, it can sometimes be difficult to step into these vans. If you're carrying passengers or loading and unloading cargo, making it easier to step into and out of the van is a great idea. That's where our Ford Transit Running Boards come in!
These running boards make it so easy to enter and exit the vehicle. They allow for easy step access into your Ford Transit. This is also a huge benefit when traveling with children. No more time spent loading and unloading the kids into the vehicle. With these running boards, children will be able to easily step into your Ford Transit van with no problems.
---
Our extra wide step running boards will make your Ford Transit look great! They give it a clean and complete look from top to bottom. Not to mention the fact that these running boards will help protect the side of your vehicle! They can help provide protection to the side of the body in the event that a rock or other piece of debris flies up from the road. This can greatly reduce the number of chips and dings on the side of your Ford Transit.
---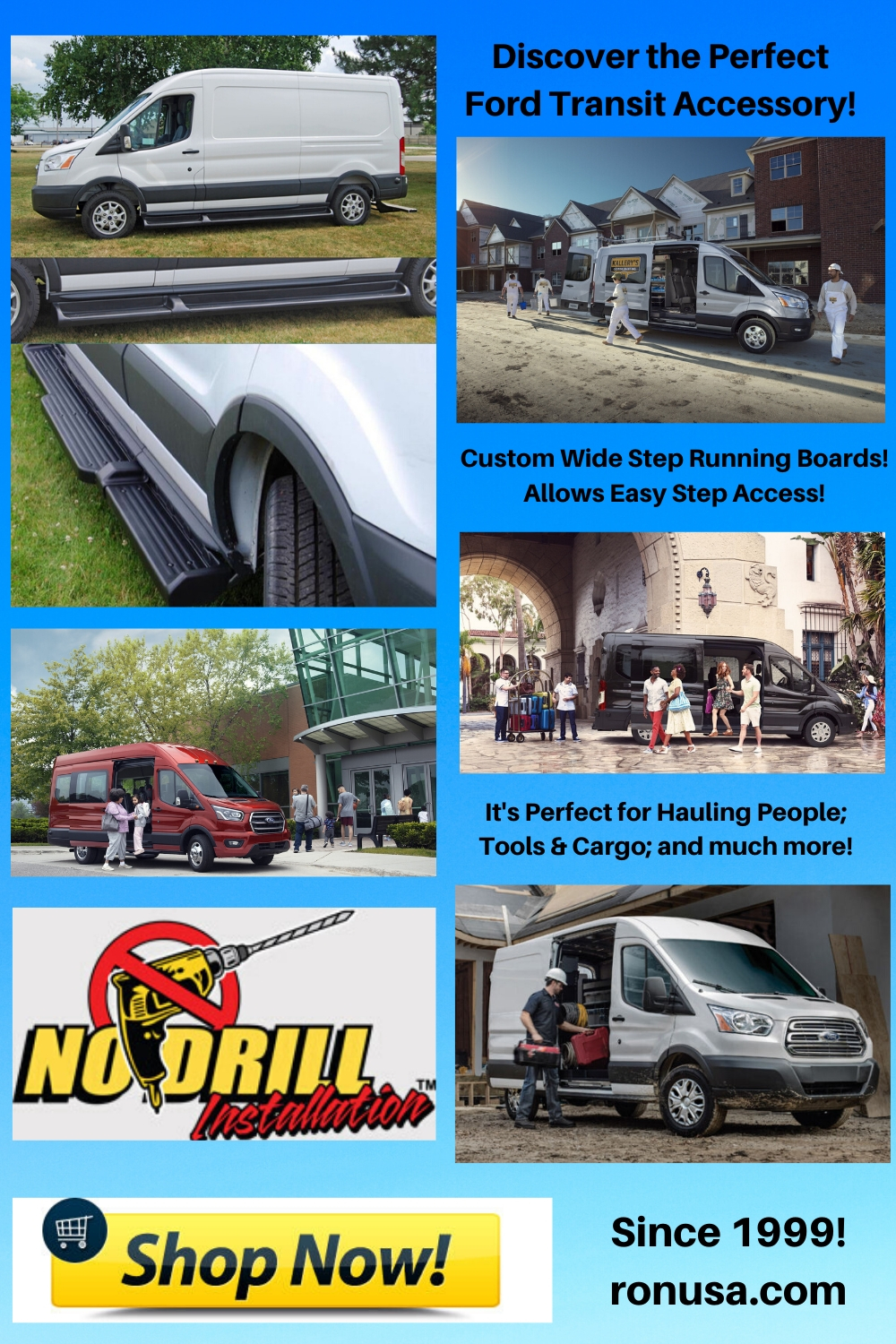 ---
Have you ever bought parts before that didn't fit quite right once you got them home? You won't have to worry about that at all with our parts. These running boards are specifically made for a custom fit on your vehicle. This is not a one size fits all part that needs modifications to the part or vehicle in order to complete the installation. These running boards will fit your Ford Transit van perfectly and easily.
Speaking of fitting easily, installation of these is a breeze. Installation requires no drilling or modifications. This is a simple bolt-on installation using only basic hand tools. If you know how to use a wrench or socket, then you should have no trouble installing these running boards on your van. Installation should only take about an hour. All installation hardware and instructions are provided with your purchase. If you do happen to run into problems, our free tech support is always available to assist you.
We offer these running boards in both the 130" WB and 148" WB versions. We also have several different finishes, so you are sure to find one that suits your needs. Our style options include extruded, diamond tread, black extruded aluminum, and black injection TPO molded. These running boards are durable and high quality, so you'll never have to worry about them feeling flimsy or wobbly.
All our running boards come with permanently mounted black grip step pads for each door. With these pads, you can be assured of solid footing when stepping into or out of the vehicle. Even in rainy and wet conditions, you won't have to worry about slipping as you enter and exit your Transit van.
Our aluminum running boards are constructed of heavy gauge aluminum for strength and durability. This also lets you rest easy knowing that your product will be rust free for years to come. If you opt for the TPO molded versions, those are made from a super high strength TPO material that is reinforced with a galvanized steel plate. The steel plate is molded into the running boards themselves which makes them very strong and durable. Those come in a black satin finish that requires no painting.
You should be aware that even Ford does not offer this product for the 2015 and up Transit vans, so you'll be the envy of all your Ford buddies when you show up with these running boards installed. To make things even better, our running boards are Ford dealer approved!
Not only do these running boards make your Ford Transit look great and increase the usability, but they are also great on your budget. You don't have to worry about these breaking the bank when you make your purchase. Given the cost, ease of installation, and quality of this product, it should be a no-brainer. Upgrade your Ford Transit today and watch your friends turn green with envy!
---
(Click here for Pricing on the 130″ WB. Version).
(Click here for Pricing on the 148″ WB. Version).
---
Ron,
I wanted to thank you a your company for the QUALITY running boards for my 2011 Acadia Denali, no one else in the business not even GMC makes running boards for this model. I get so many compliments on the paint match up, and how great they look on my Acadia. My salesman at the dealer was really impressed with the quality and look, as well as some of the mechanics. I'm very happy with the product, so I just wanted to let you know, thanks again.
D. Fletcher
Largo, Florida
Hey Ron!
Can't thank you enough!!!! the "Running Boards are AWESOME"!!!! It is one of the best things I have purchased for any of my cars. My SUV looks GREAT!!!! and I have been getting a lot of compliments about how the truck looks so I have been giving out your website. Thanks's again!!!!
J. De La Paz
Los Angeles, California
Thank you Ron for the follow up. I did receive my running boards and they arrived quickly; well packaged/ protected and the paint was very close to the factory finish. I'm very pleased with the product; and especially the service. Keep up the good work; you have won a repeat customer with me.
S. Morland
Woodland Park, Colorado
Dear Ron:
The running boards for my 2011 Explorer arrived yesterday and Ford installed them today. Took longer than mentioned; but the results are great. My dealer was very impressed.
They look like they were made for it; and not an add on.
Thank You!
J. Leighton
Phippsburg, Maine
---