How to Make Your Honda Odyssey More Family Friendly with Custom Running Boards!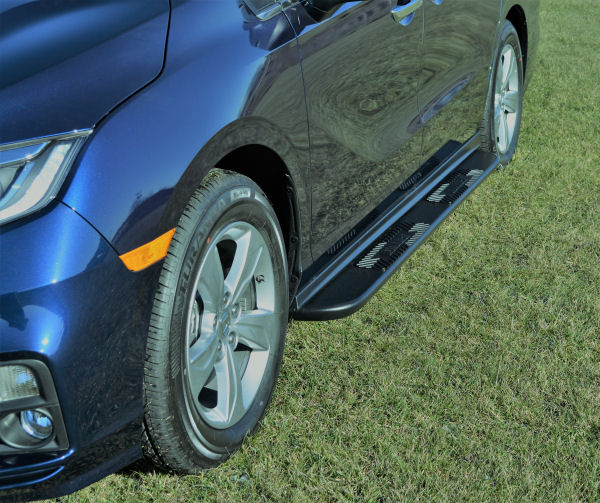 The Honda Odyssey is the ultimate family friendly vehicle, so why not make it easier for everyone to get into and out of yours with a pair of custom running boards? Think how having sturdy yet attractive running boards will make your Odyssey so much more functional and enjoyable!
If you're worried about durability, these running boards are reinforced by a steel plate that is embedded into the plastic. Other Honda Odyssey running boards are made of pure plastic which eventually cracks and flexes until they are no longer functional. Having a steel plate ensures that our running boards can properly support the weight of adult passengers without cracking or breaking down.
These Honda Odyssey running boards are also attractive. Unlike universal running boards which are made to fit a number of different vehicle models other than the Honda Odyssey, these running boards are customized to fit perfectly on your van. Since our running boards are made specifically for the Honda Odyssey you don't have to make any modifications to your vehicle for them to fit properly.
You can order your running boards in either the standard satin black finish or painted to match the color of your Honda Odyssey's body, as long as your van is less than three years old.
Our running boards will save you money since you can do the installation yourself instead of hiring a professional. You receive all of the necessary mounting hardware as well as detailed instructions to walk you through the entire installation process. If you do have trouble installing the running boards you can rely on technical support free of charge.
---
---
Ron,
I wanted to thank you a your company for the QUALITY running boards for my 2011 Acadia Denali, no one else in the business not even GMC makes running boards for this model. I get so many compliments on the paint match up, and how great they look on my Acadia. My salesman at the dealer was really impressed with the quality and look, as well as some of the mechanics. I'm very happy with the product, so I just wanted to let you know, thanks again.
D. Fletcher
Largo, Florida
Hey Ron!
Can't thank you enough!!!! the "Running Boards are AWESOME"!!!! It is one of the best things I have purchased for any of my cars. My SUV looks GREAT!!!! and I have been getting a lot of compliments about how the truck looks so I have been giving out your website. Thanks's again!!!!
J. De La Paz
Los Angeles, California
Thank you Ron for the follow up. I did receive my running boards and they arrived quickly; well packaged/ protected and the paint was very close to the factory finish. I'm very pleased with the product; and especially the service. Keep up the good work; you have won a repeat customer with me.
S. Morland
Woodland Park, Colorado
Dear Ron:
The running boards for my 2011 Explorer arrived yesterday and Ford installed them today. Took longer than mentioned; but the results are great. My dealer was very impressed.
They look like they were made for it; and not an add on.
Thank You!
J. Leighton
Phippsburg, Maine
---
RECEIVE A $20.00 DISCOUNT ON A SET OF RUNNING BOARDS!
PLEASE USE COUPON CODE: BLOG20