Storage Sheds That You Gotta Check Out!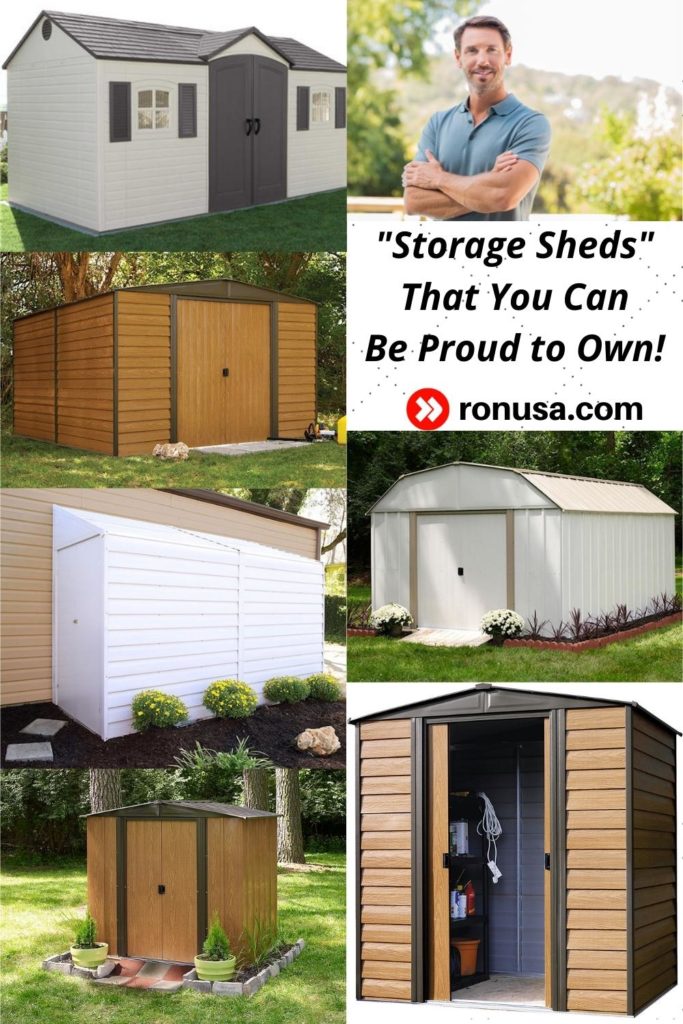 Storage sheds don't have to be boring and an ugly site in your back yard; as storage sheds are a necessity for many people today. People have tools, equipment, and many other things that need to be housed in a safe and secure location. A storage shed is a great way to add additional space outside where you can store all your equipment. With many innovative and unique designs available today, storage sheds no longer need to be an eyesore.
Our Woodridge line of storage sheds gives the realistic look of real woodgrain finish in a durable and long-lasting steel material. This shed will blend in perfectly to your backyard and match your existing décor. The woodgrain finish provides a very attractive aesthetic that will look great in your backyard.
Even though it looks like real wood, the electro galvanized steel provides many benefits over wood. It has been zinc treated for protection against corrosion. In addition, this shed is UV resistant and these steel panels protect against rot, insects, and extreme weather conditions. This shed features sliding doors for easy entry and access which can also be secured with a padlock to protect your belongings.
All our storage sheds come pre-cut and pre-drilled for easy DIY assembly. You will be able to easily assemble this on your own with some basic hand tools. If you run into any issues with assembly, our technical support team is ready and available to answer any of your questions.
We know that different people have different needs when it comes to storage. Our sheds are available in many different sizes and styles. Whether you need to store a riding lawnmower with gardening and outdoor tools, or simply need a place to secure a few smaller items, we have the perfect shed for you. We have everything from a large 10' x 14' shed to a small 4' x 10' Yardsaver model.
The Yardsaver shed is a great option for those who need just a small amount of storage space. At just 4' x 10', it does not require a large footprint in your yard. It also is made to fit right against a wall or into tight spaces. It looks great "leaning" against any type of structure. The sloped steel roof allows for easy runoff of water and helps prevent water pooling on the roof.
e
The swinging doors can be mounted on either end of the shed. The doors can also be secured with a padlock to protect your tools and equipment inside. The look of this shed will allow it to blend right into your space and keep all your belongings nice and protected out of sight.
Our steel sheds are built to last. They even include a 12-year limited warranty, so you do not have to worry about any issues arising for years to come. You can count on these products to last and continue to protect your items well into the future.
You may think that a storage shed of this quality would be very expensive. However, that is not the case! These storage sheds will not break the bank as they are very affordable, especially given the quality of the products.
If you do not prefer steel construction, we also have an option that is constructed of dual-wall high density-polyethylene. This shed give the appearance of a small house! It comes equipped with (6) small skylights, (2) shatter proof polycarbonate windows, vents, shutters, and shelves. Everything that you need to store and protect all your tools and equipment. The lockable steel-reinforced doors also provide added protection for your items.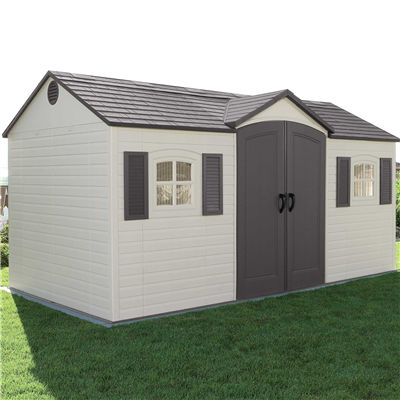 All hardware and assembly instructions are provided with this shed. The high-pitched roof provides for quick rain and snow runoff. In addition, the roof has added support and strength from heavy-duty steel trusses that are included with the shed. This shed is very low maintenance and can even withstand winds up to 65 mph.
Whether you are looking for a small steel storage shed or a large more elaborate design, we have the right product for you. Our sheds are budget friendly and you can always assemble them on your own as they come fully ready for assembly. You will not be disappointed in these sheds and you will be able to use and enjoy them for years to come. Protect your equipment today and get the shed that best matches your space.
---