Camping Tents for SUV's; Minivan's or Jeep's; Experience the Great Outdoors in Comfort!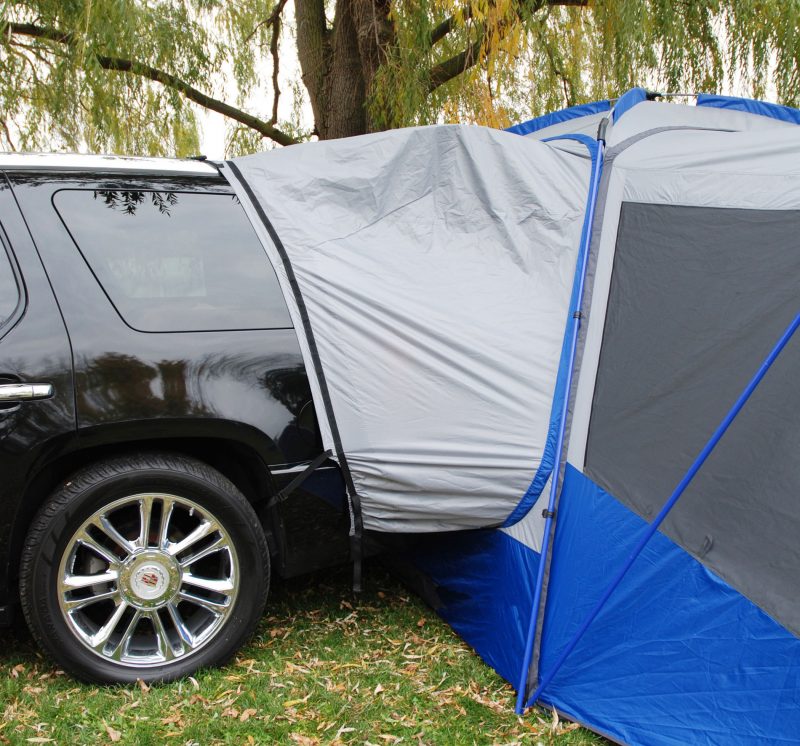 Do you like the thought of camping, but don't want to leave the luxuries of home behind? If that sounds like you, then check out our line of camping tents. This camping tent easily connects to the back of your SUV', Minivan, or Jeep so that you still have access to the comforts of home like phone chargers and other accessories. This tent acts as an extension of your own personal vehicle.
The vehicle sleeve on this camping tent is adjustable, so it can connect to a wide range of vehicles very easily. You can connect it to the back of any SUV, minivan, crossover, wagon, Jeep Wrangler hard top, or pickup truck with cap. The tent works with vehicles with or without a roof rack, and it is great for vehicles with a rear hatch or rear barn doors.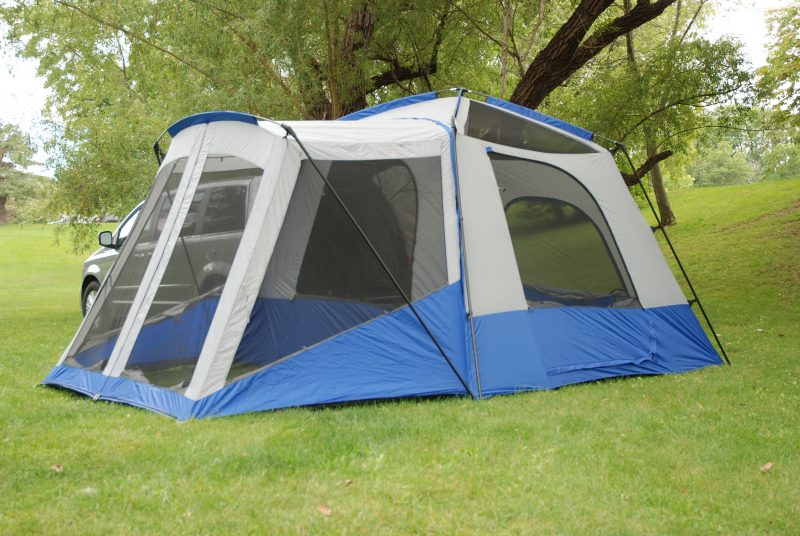 When it comes to camping tents, this is one of the best options you'll find. Set up camp easily and quickly by following the sewn-in setup guide. There is no need to worry about taking your tent down when you're ready to head off for the day's adventures either. You can easily disconnect this tent from your vehicle by simply tying up the vehicle sleeve with the dowel and loop fasteners.
Some tents claim to be water resistant, but you are always nervous about getting wet when the rain shows up. You don't need to worry when you're using one of our camping tents. It was made with special attention to keeping you dry! It has been designed with a high degree of water resistance in mind. It is made of fully water-resistant fabric and tape-sealed seams to keep you dry and happy throughout your entire trip.
In addition to keeping water out, this tent also keeps out the bug and insects. Nobody wants to come home from a camping trip covered in bug bites, and that won't be an issue when you use this tent. Its large windows and doors are covered with no-see-um mesh to keep out even the smallest insects.
---
WOW! Watch the below the short video!
---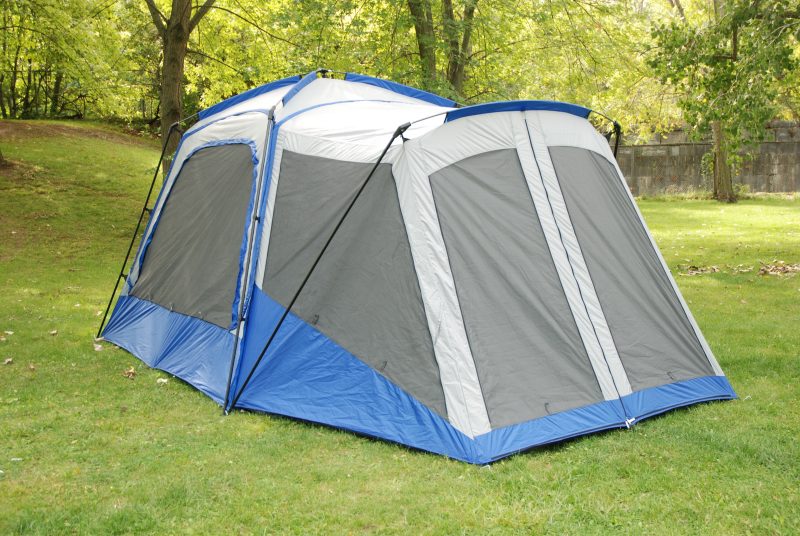 When it comes to accessories, this tent is loaded with them. Some tents for your car provide just the basics, but this one is loaded with useful accessories. It comes with two gear pockets, a lantern hanging hook, glow-in-the-dark zipper pulls, and a PE bathtub floor. This floor prevents the need for a ground tarp and prevents any moisture from soaking into the tent from the ground. You'll also be amazed at how useful the glow in the dark zipper pulls are. Even in the dark of night, you can always find and reach for the zipper pull.
Many people with trucks like to add a cap and camp in the back of them. However, this method is usually uncomfortable and doesn't provide much room. Our camper tent solves that problem as it easily attaches to your pickup truck to provide plenty of space for storage and sleeping.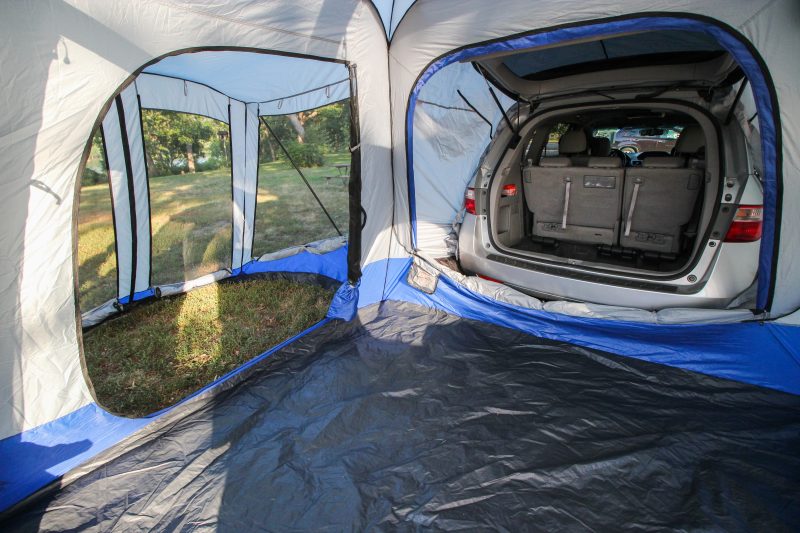 It is 8 feet wide in both directions and over 7 feet tall. There is plenty of room to sleep four adults inside the tent with an additional two adults in the cargo space of the vehicle. So, this isn't just for solo camping trips. You can bring plenty of friends along with you and have enough space for everyone.
When your friends come along, this tent will also ensure that everyone has the privacy they need while on the trip. You can easily use it as a changing room or other private space. The windows and doors in this tent include storm covers that can be closed for privacy.
This tent provides many features of a camper, but at a fraction of the price. You'll get easy access to your vehicle's accessories from inside the tent, have plenty of privacy, and won't have to worry about getting wet. But you'll never find a camper even close to the price of this tent!
Our camping tents includes everything that you need to have an easy and great trip. It comes with the tent, rainfly, stakes, carry bag, and a sewn-in setup guide. A tent for your vehicle has never been easier to transport and setup. You'll be ready to go camping again and again once you give this product a try. Safe travels and happy camping!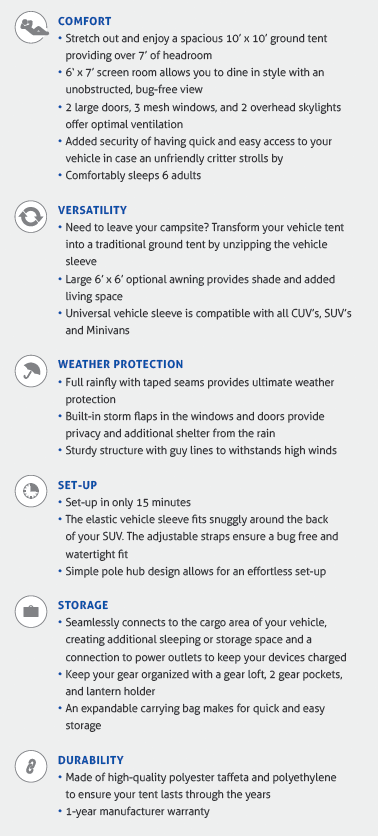 ---
So go ahead and SHOP NOW
to receive your Discount Price!