Chrysler Pacifica Running Boards; Why It's A Must Have Item!
The 2017 – Present Chrysler Pacifica is one of the most popular, comfortable and reliable minivans ever produced.  If you own one of these venerable vehicles you have probably thought there isn't much that can be done to make it better then when it rolled off the assembly line floor. However, there is one feature many of these vans were missing that do in fact make them much better. It's a set of Running boards. 
While you may think of running boards as a 4×4 truck accessory designed to help big brawny dudes hoist themselves into the cab of a ridiculously high and equally impractical vehicle, it turns out they are also exceptionally useful on a vehicle like the Chrysler Pacifica. The Chrysler Pacifica was designed as the ultimate family vehicle and families are made up of all kinds of people with all kinds of needs.  Small children and handicapped and older adults all benefit from the low step height that running boards bring to the party; like easier step access into the vehicle. That extra step even gives a better foot position and an extra sense of security when putting heavier objects like child carriers, packages and groceries in through the side doors. Fortunately, adding running boards to your Chrysler Pacifica is an easy and affordable DIY project with our custom running boards. Let's take a look at the running boards we offer and how they can benefit your vehicle.
---
---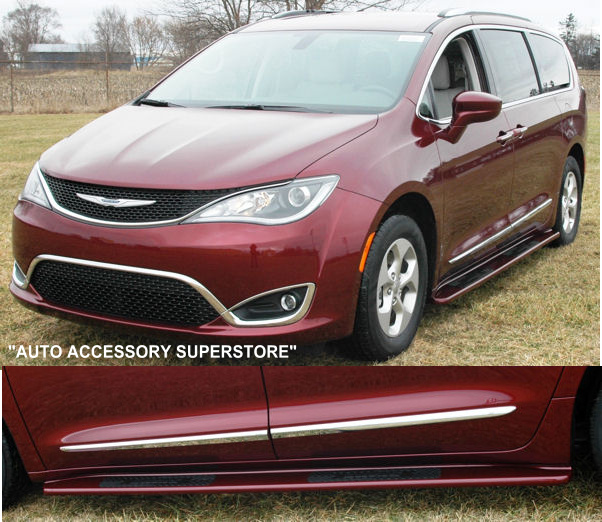 (Above Photo is showing the Paintable Fiberglass Type)
---
Chrysler Pacifica Specific Running Boards – the best solution on the market.
We offer custom running boards which are designed specifically for the Chrysler Pacifica. Unlike similar 'universal' running boards which are made to fit a broad range of vehicles, these are tailored specifically to fit only Chrysler Pacifica right down to specific model years. This ensures that you do not need to do any modifications to your vehicle or the running boards to have them fit up perfectly. It also means that they will look like they came on the vehicle from the factory. 
Are the difficult to install?
No, in fact installation is a simple DIY project that can be completed in your own garage with simple hand tools. Each set of running boards ships complete with all the necessary hardware and detailed instructions for you to install them yourself in no time. Since they are vehicle specific there is no drilling required and you simply bolt them into existing holes. If you run into problems, we're here to help. With our tech support line we can quickly help you resolve any issue you may have. Of course, you can always take your running boards to a service facility to have them mounted by a professional if you feel you are not up to the task.
Will they match my vehicle?
Yes, as we've mentioned previously these are designed specifically for the Chrysler Pacifica so they will provide a quality factory installed appearance. They come in the box with a standard black satin finish that looks great on any van. For a more custom look, we also offer a paintable fiberglass version that can be easily painted to match your vehicle's specific color by a professional.
---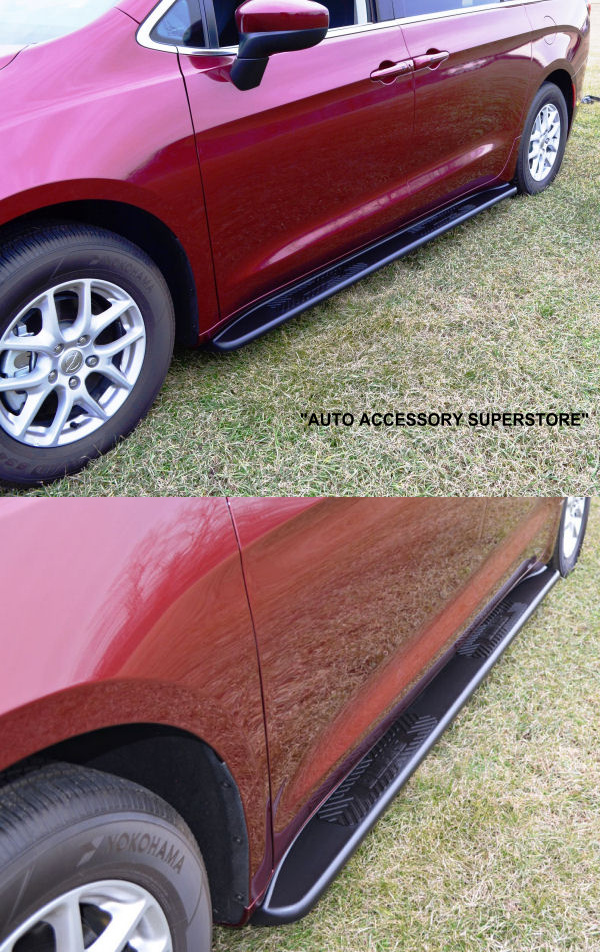 (Above Photo is showing the TPO Molded Type)
---
Are they durable?
Absolutely! Our Custom Molded TPO Running Boards are manufactured from Thermoplastic Polyolefin (TPO), which is the material demanded by OEs. Our TPO boards are durable, impact resistant, and hold up in extreme temperatures and weather. These running boards are even UV protected and do not require painting. Our strategically placed TPO SureGrip Step Pads provide secure footing all year round.
In addition our Paintable Fiberglass type of running boards is manufactured from the highest grade of fiberglass available and is reinforced with a steel plate that runs the full length of the running boards. This assures you of a highly durable and long lasting set of running boards.
Conclusion:
The Chrysler Pacifica is a great family vehicle. Adding running boards makes it even better. Our Chrysler Pacifica specific running boards lower the step height, making it easier for people to enter and exit the vehicle.  They also provide better footing for putting in or taking out heavy objects from the side doors.  These running boards are a durable, affordable, easy to install and great looking upgrade you can add to your van today.
---
RECEIVE A $20.00 DISCOUNT ON A SET OF RUNNING BOARDS!
PLEASE USE COUPON CODE: BLOG20