Discover the Hottest Honda Ridgeline Accessory!
Many owners of the Honda Ridgeline are discovering the many benefits of a brush guard which is a great way to add to the appearance of the truck. It quickly adds that tough and rugged off-road look to the Honda Ridgeline, but it is also functional. It protects the front of the Honda Ridgeline from brush, limbs, and other things that it may encounter.
Our brush guards are available in two different types. You can select from a rust-free, stainless steel finish or a highly durable black powder coated finish. Both finishes look great and will last for years to come. The stainless steel version comes with a lifetime warranty, and the powder coated finish includes a 3-year warranty.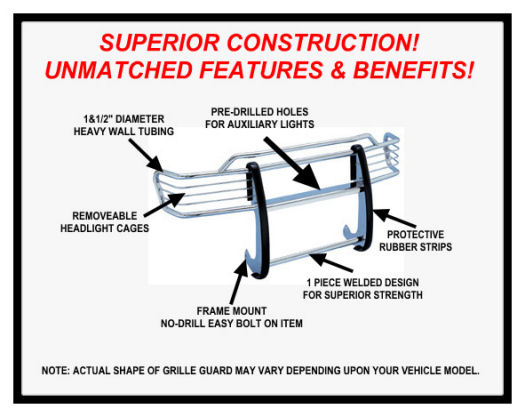 This brush guard will be an exact fit for your Honda Ridgeline. This is not a one size fits all type of product that requires modifications to your truck in order to fit properly. Your grill guard will arrive pre-assembled, and it will bolt directly to existing holes in the frame of your truck. All hardware and instructions for installation are included with your purchase. If you run into any issues during installation, our factory tech support is readily available to help you with any problems. As always, our tech support is available at no additional charge with your purchase.
If you are also considering auxiliary lighting, then this product would be a great choice. Our brush guard has pre-drilled holes for easy installation of any auxiliary lighting. A brush guard makes your Honda Ridgeline look great, but one with auxiliary lighting really takes it to the next level.
The headlight cage tubing on this brush guard is also easily removed. If you ever need to get to your headlights for repairs or any other reason, you will not have to remove the entire brush guard. Simply remove the cage tubing and then reinstall it once you have accessed your headlight. Or, leave it off altogether if you prefer the look without the headlight cage tubing in place.
This brush guard for your Honda Ridgeline is certainly of superior quality. It is made from a single-piece, welded construction. Some competitors utilize a multi-piece approach where the pieces bolt together. This can lead to the brush guard being wobbly and less reliable. You will not have that issue with our brush guards.
If you prefer the shiny look, then select the stainless steel version. It is highly polished to a shiny chrome finish. You never have to worry about it rusting and can rely on the lifetime warranty. This version does have a protective rubber strip covering the center vertical bars. Other than that, it is an all chrome finish. If you prefer the more rugged powder coated finish, then you can count on our quality too. You will not have to worry about that finish cracking and flaking off like you may encounter on lower quality models.

All your friends will love the look of your Honda Ridgeline after you install one of these brush guards. You will be ready for a great off-road adventure, and you can have some peace of mind that your truck's grille will be protected as you drive down the trail. If you choose to install optional auxiliary lighting, then you can even have fun off-roading at night.
This Honda Ridgeline accessory is also going to be kind to your wallet. It will not break the bank as it is a great accessory at a very affordable price. While many accessories for your Honda Ridgeline are quite expensive, these brush guards will add a great look to your vehicle for a great price. If you do not own a Honda Ridgeline, then no need to worry! We also offer brush guards for many other vehicles as well.
Accessories that look great are nice, but ones that look great and increase the functionality of your vehicle are truly the best! This is one of those accessories that both adds to the look of your Honda Ridgeline and adds functionality. What better way to keep your grille protected from damage than with a great looking brush guard available in shiny chrome or black powder coated finish. All of your buddies will be jealous of your new brush guard, and you will love showing it off around town; or on the off-road trails.
---
MENTION THIS BLOG AND RECEIVE A $20.00 DISCOUNT
ON ANY HONDA RIDGELINE GRILL GUARD!
PLEASE USE COUPON CODE: BLOG20