How to Easily Solve this Problem on Your Camper!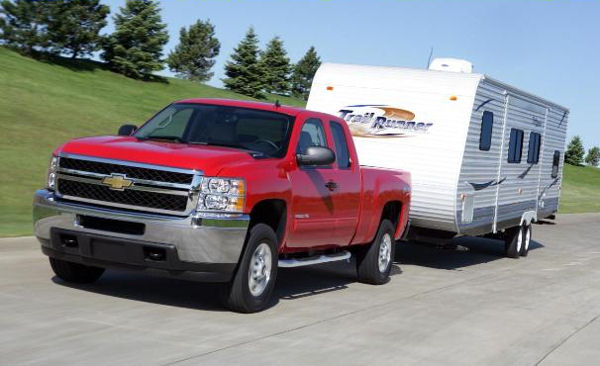 Are the factory fender skirts on your camper cracked or damaged? If so, we have the perfect solution for you. You can order one of our factory-type replacement skirts and have your camper looking like new again. They are easy to install and available for many trailer manufacturers.
As your travel trailer gets older, the fender skirts become brittle and crack more easily. Perhaps you bumped into the skirt while moving things around the campsite. It is not uncommon at all for older fender skirts to become damaged in this manner. Also, years of exposure to sun and weather elements can cause the original skirts to crack on their own.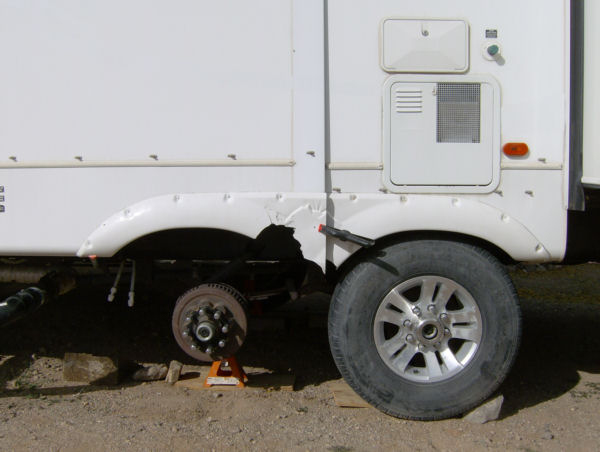 It could also be that one of your fender skirts got damaged while you were on the road. Road debris or a tire blowout could cause major damage to the fender skirts on your camper trailer. Our replacement skirts are just what you need to fix the problem.
Whether you have single, tandem, or triple axle trailer, we have the right fender skirt for you. We have options available in all three axle styles, and we have patterns available from many different manufacturers dating back to the 1970's. We can even custom make a replacement if you can't find your specific trailer listed in our inventory items. In this particular case, as long as your trailer was manufactured in 1999 or newer, we can custom make a replacement by using your old fender skirt as a template. Simply ship us the old fender skirt, and we can work from that to custom manufacture a replacement that will be a perfect fit.
Our replacement trailer skirts are made from a high impact ABS plastic so they are durable and can withstand the elements. We have many different color options available, so you are sure to be able to find the exact color you need to match your trailer. Most of our skirts come with a textured finish, so they provide a great look for your RV.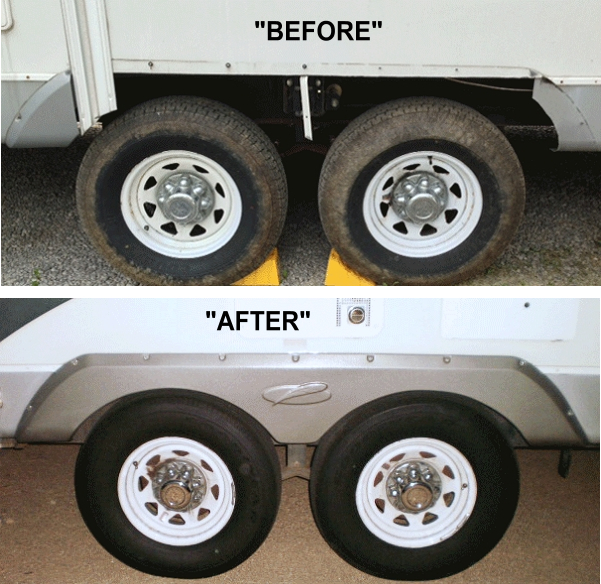 Replacement of your original fender skirts is simple and easy. We provide all the instructions you need to perform the job yourself in a short amount of time. In most cases, you just need a few simple hand tools to do the work. In case you do run into any issues, our free factory support is available to help when needed.
Think you don't need to replace your fender skirts and you'll just ride without any skirts? Think again! Fender skirts help protect the trailer body from any road debris that may be thrown up from the tire area during travel. Don't risk damage to the body of your trailer and simply put on a new set of fender skirts today.
Not only do fender skirts protect the body of your trailer from flying debris, but they also protect your tires from debris. It is no coincidence that fender skirts are flared and stick out over the tires. This is for protection of the tires and helps prevent them from being damaged by debris.
In addition to providing protection for your trailer body and your tires, fender skirts can be used to increase the aesthetics of your camper. Since our replacements are available in a wide range of colors, you can choose to go with the same color as your originals or change things up. Some people prefer to match the body of their trailer, while others like their fender skirts to match the trim color of the RV. The choice is up to you, but either way you'll love the look of your trailer after you install a new set of these skirts.
In conclusion; if your camper trailer fender skirts are looking cracked, damaged, and ugly, then turn to our replacement fender skirts to get things looking great again. You can install them easily in very little time and have your trailer ready for the road. You'll love the look of our replacement fender skirts, and you will not be disappointed with the fit and quality!
---
Watch how easily you can replace your Fender Skirts!
---
Find Your Camper Fender Skirts Now!