How to Order Pre-Painted Body Side Molding

---
Did you know that you can easily order and install Pre-Painted | Pre-Cut Body Side Molding for your vehicle? Yes, it's quite easy to do in every way! Just provide to us your exact vehicle info, and your exterior paint code when placing your order and we can have this Body Side Molding that will be Pre-Painted and Pre-Cut to exactly match your vehicle. We have literally hundreds of vehicle applications available for most late-model Cars, SUV's, and Pickups. Best of all our Body Side Molding is available in different styles and sizes.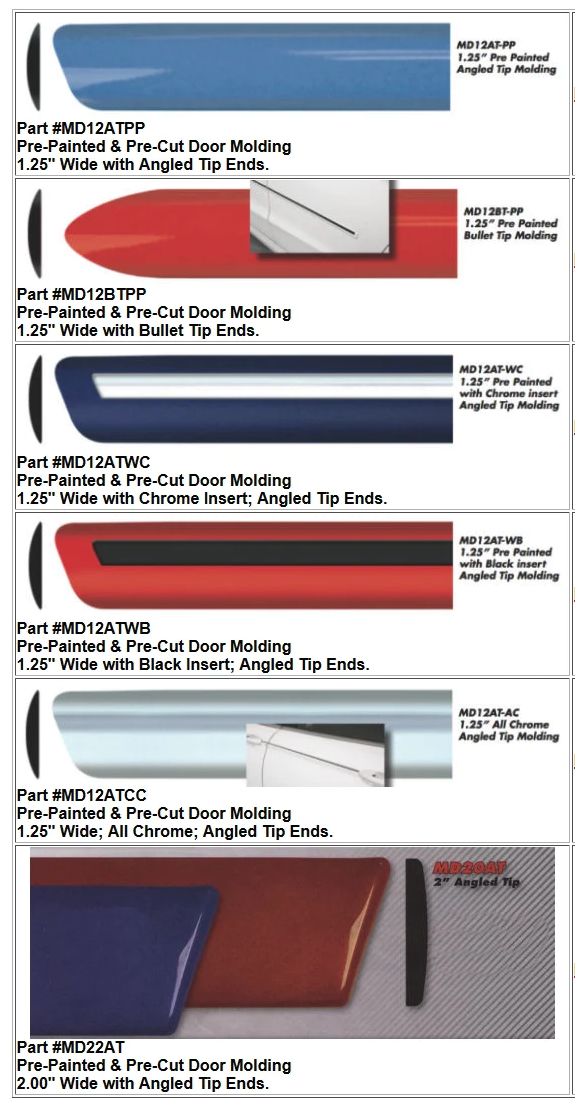 ---
WHAT ARE THE BENEFITS OF BODY SIDE MOLDING?
Buying a new or used car, or restoring a classic vehicle is a major investment. You want to protect that investment and keep it looking as good as possible for as long as you can. Doing so will extend the life of the vehicle and maintain its resale value should you ever decide to sell it.
One of the most common types of vehicle damage is door or body side dings from parking lots. While the damage may be minor, even difficult to notice unless you're looking for it, it nonetheless degrades the appearance and resale value of your ride. Body side molding was a common factory-installed feature used on older vehicles to help protect from this damage. Many newer vehicles lack this protection for cost-cutting or aesthetic reasons, leaving these vehicles primed for damage. Even if your car came with body side moldings, they commonly degrade in appearance with age and can even fall off over time. Fortunately, we offer some great options to add, upgrade, or replace the body side moldings on your vehicle. Best of all body side molding will enhance the appearance of your vehicle and provide a personalized touch while providing the protection you need.
IS IT EASY TO INSTALL?
Yes, the body side molding comes with pre-applied adhesive backing for a simple peel and stick application. Simply prep and clean the area where you want to place them, peel off the backing and stick them in place. It's so easy to do at home in just minutes with no need for additional expense taking it to a body shop.
WHAT WILL IT COST?
Adding body side molding is exceptionally affordable. The actual cost will vary depending on the size, style and type you choose. Regardless of these variables, the cost of adding body side molding is significantly less than repairing the damage they are designed to protect against.
CONCLUSION:
Body side moldings are a great way to protect the sides of your vehicle from those annoying parking lot dings. We offer a great variety of moldings that can provide everything from an OEM to a full on custom appearance. With so many options available and exceptionally easy installation, they are the perfect solution for protecting any vehicle be it a new car, older car or classic restoration.
---