How to Use Your Truck Bed Sides as a Toolbox!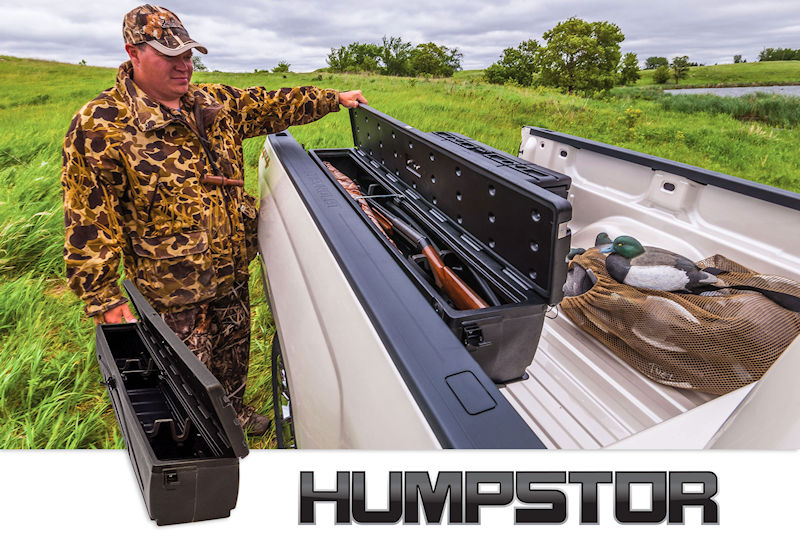 ---
Most truck owners know that bed space is a premium when it comes to storage and transportation of things in your truck. Toolboxes are great, but most of them use valuable space at the front of the bed and reduce your bed length by nearly two feet in some cases. You do not have to worry about that with the DU-HA Humpstor toolbox. Its unique design lets you store and conveniently access all your items while sitting in one of the most underutilized areas in your truck bed.
The DU-HA Humpstor truck toolbox mounts right above the wheel well in your truck bed. This area is typically considered dead space anyway as nothing can lay flat over the wheel well. This is also one of the easiest spaces in your truck to access. It is even called the Humpstor because it rides above the hump.
By sitting above the hump in the wheel well, this truck toolbox does not eat up any valuable floor space in the bed of your truck. You can still slide almost any type of cargo into the bed of your truck with no problem. You can even still slide 4×8 sheets of plywood into the bed with this toolbox installed!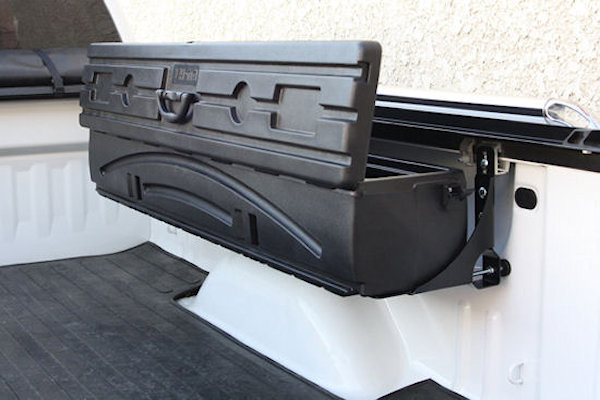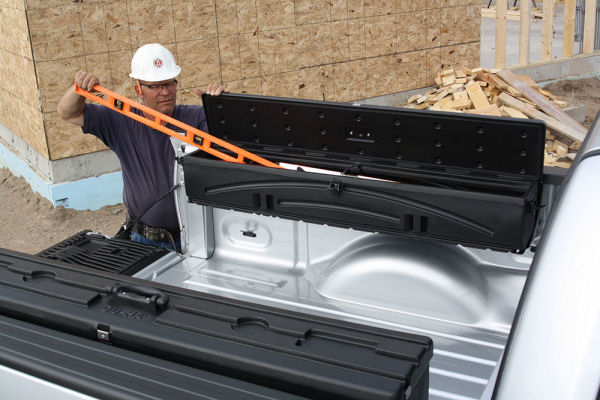 The DU-HA Humpstor is extremely easy to access, even if you have other accessories installed on your truck. The installation brackets can be adjusted up or down to change the height of the installed toolbox. Even if you have a tonneau cover or roll up cover installed, you can still use this toolbox. Also, the DU-HA can be easily accessed through a camper shell with side-opening topper doors. Don't think you cannot have a toolbox just because you have a topper installed on your bed!
The storage possibilities in this toolbox are almost endless. Contractors and handymen will love it because they can store a variety of tools and supplies. The tools can then be easily accessed when the need arises.
Hunters will also love this toolbox on their truck because they can store guns in there as well. This toolbox includes dividers and a gun rack for the perfect storage compartment for your firearms. It also has a rubber seal under the lid to keep dust and moisture out of the compartment, so your guns will be protected inside. In addition, the latches are lockable so that you can secure your guns safely. This toolbox is considered a legal gun case in most states.
Installation of the toolbox is a breeze. It requires no drilling and can easily be performed on your own. The unit comes with a lifetime warranty, and we are sure that you will be completely satisfied. If you happen to encounter any issues during installation, our technical support is free and available to help you sort out any problems.
Although it sits nicely out of the way without taking up floor space in your bed, you can store quite a few items in this toolbox. It measures 55.25" long x 9.75" wide x 10" deep. That provides a whopping 2.3 cubic feet of storage space. You will not find a better solution for the space above your wheel wells than this DU-HA Humpstor.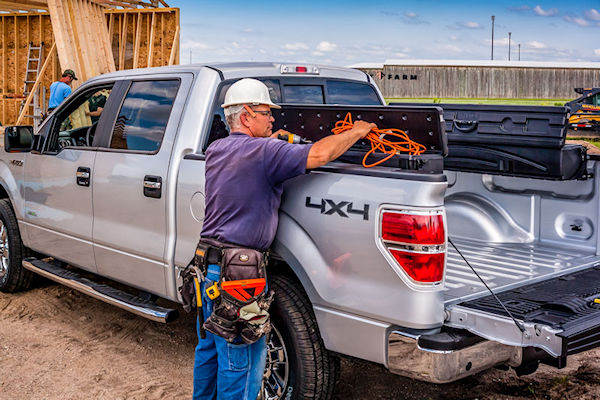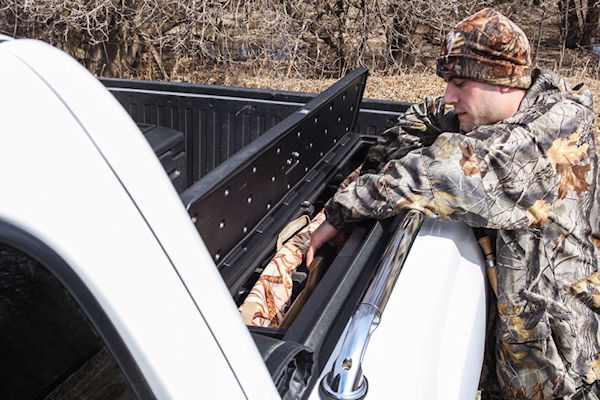 The Humpstor is made to be extremely durable. It is constructed of heavy-duty roto-molded polyethylene that can withstand whatever you throw at it. It can stand up to the elements as well as the everyday use of moving tools in and out of the box. The rubber seal also helps protect items inside the toolbox from the weather conditions.
The DU-HA Humpstor is proudly made in the USA, and is one of the most versatile truck toolboxes that you will find. The ease of installation, as well as the ability to adjust the height, make this the perfect choice for anyone looking to add protected storage space in the back of their truck. Being able to slide large items into the bed while still having a toolbox mounted in the bed is a feat that is normally unheard of. However, it is just one of the many benefits of the Humpstor. You will not be disappointed in this product!
---