Kia Telluride Running Boards; A must have item that is not available from Kia!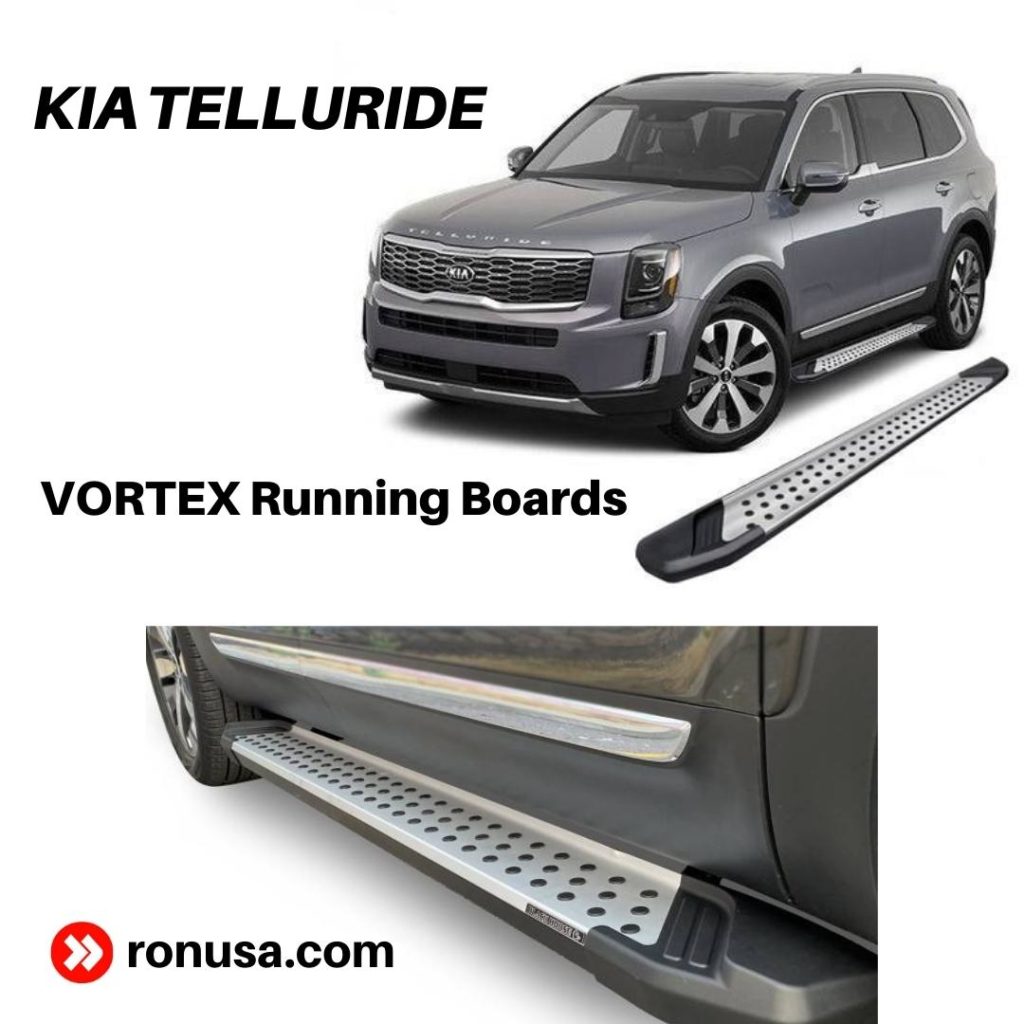 ---
Here's a must have item for the Kia Telluride!
One of the most stylish and classy vehicles on the market today is the Kia Telluride. This vehicle is perfect for all types of needs from carrying children or elderly people, or going to outdoor adventures where you need all the space for your cargo and equipment.
However, even great vehicles can have their own downsides and with the Kia Telluride, it has a high step that makes it uncomfortable to get in and out. Therefore, a lot of Kia Telluride owners often install running boards to make it a lot safer and easier particularly for elderly people or children to get up and into the vehicle.
We offer a set of running boards that are made to exactly custom fit the Kia Telluride. These customized running boards provides passengers with easy step access while adding stylish looks on the car.
Adds Convenience to the Kia Telluride!
Without an additional step access into the Kia Telluride, getting into the vehicle will seem quite uncomfortable. This can be particularly hard if you have elderly people or children as your passengers. However, these Kia Telluride running boards is not just an aftermarket ladder for your vehicle.
With its innovative design, these Kia Telluride running boards will add stylish looks, while also providing protection from road debris hitting the vehicle.
Apart from its stylish design, another added advantage of Kia Telluride running boards is that they can help keep your car's interior clean. Once installed, our Kia Telluride running boards can also serve as a doormat where your passengers can wipe dirt off their shoes before entering the vehicle.
They're Easy to Install!
Our Kia Telluride running boards have been designed with easy installation features. Like for example, no modifications to the vehicle is required, and custom fit "no-drill" mounting brackets are included. We also provide an easy to follow installation guide, and free factory phone support for installation help. boards are basically plug and play so you will not have a hard time installing it yourself quickly and easily.
In conclusion, if you want to add convenience and style to your Kia, a set of our Kia Telluride running boards is your perfect option. All of this can be done at a price that will not break your bank account. With several different types of running boards to choose from, there is no reason why you cannot find the ideal model that will best suit your vehicle.
---
Ron,
I wanted to thank you a your company for the QUALITY running boards for my 2011 Acadia Denali, no one else in the business not even GMC makes running boards for this model. I get so many compliments on the paint match up, and how great they look on my Acadia. My salesman at the dealer was really impressed with the quality and look, as well as some of the mechanics. I'm very happy with the product, so I just wanted to let you know, thanks again.
D. Fletcher
Largo, Florida
Hey Ron!
Can't thank you enough!!!! the "Running Boards are AWESOME"!!!! It is one of the best things I have purchased for any of my cars. My SUV looks GREAT!!!! and I have been getting a lot of compliments about how the truck looks so I have been giving out your website. Thanks's again!!!!
J. De La Paz
Los Angeles, California
Thank you Ron for the follow up. I did receive my running boards and they arrived quickly; well packaged/ protected and the paint was very close to the factory finish. I'm very pleased with the product; and especially the service. Keep up the good work; you have won a repeat customer with me.
S. Morland
Woodland Park, Colorado
---
BONUS OFFER!
RECEIVE A $20.00 DISCOUNT ON A SET OF RUNNING BOARDS!
PLEASE USE COUPON CODE: BLOG20