Prevent Dings & Scratches with a CAR DOOR PROTECTOR!
Here's Why You Need a "CAR DOOR PROTECTOR"! Buying a new or used car, or restoring a classic vehicle is a major investment. You want to protect that investment and keep it looking as good as possible for as long as you can. Doing so will extend the life of the vehicle and maintain its resale value should you ever decide to sell it.
One of the most common types of vehicle damage is door or body side dings from parking lots. While the damage may be minor, even difficult to notice unless you're looking for it, it nonetheless degrades the appearance and resale value of your ride. Body side molding was a common factory installed feature used on older vehicles to help protect from this damage. Many newer vehicles lack this protection for cost cutting or aesthetic reasons, leaving these vehicles primed for damage. Even if your car came with body side moldings, they commonly degrade in appearance with age and can even fall off over time. Fortunately, we offer some great options to add, upgrade, or replace the body side moldings on your vehicle. These will enhance the appearance of your car, truck or van and provide a personalized touch while providing the protection you need.
(Universal U-Cut Styles shown above).
What molding options are available?
We offer two main options for vehicle body side molding – Universal U-Cut Styles and Pre-painted/Pre-cut styles. Both offer an exceptional variety of options which will provide outstanding body side protection for any vehicle. Let's look at each type to see the differences to help you decide which is the best option for you.
Universal U-Cut styles come as long sections which you can trim to fit where your car needs protection most. These are generally black plastic moldings with profiles that match factory OEM offerings from the major manufacturers. Many are also available with chrome insets or highlights. Widths range from 9/16" through 4-3/16" which will provide the look or protection you need for even the most demanding applications. These are the ideal affordable option for new vehicles which lack factory moldings, replacing or upgrading the moldings on older vehicles or adding moldings to your classic car restoration where that OEM look is needed.
Pre-Painted/Pre-cut styles are a bit more expensive, but they are tailored to match your specific vehicle. They are pre-cut to size and can include several pieces to cover all the vital areas of your vehicle. You can provide your paint code to have them color matched. There are even options that allow you to have the vehicle model name cut into the molding. This provides a high-end custom look to the moldings, making them both beautiful and functional. It also integrates them into the car's styling so they look less like body side moldings while still providing excellent protection. These are available in a wide range of styles including solid colors and solid colors with chrome accents. If you are looking to dress up your car while adding body side protection, these are the way to go. There are also excellent options here if you want your moldings to blend into the car.

(Various Pre-Painted/ Pre-Cut Styles shown above and below).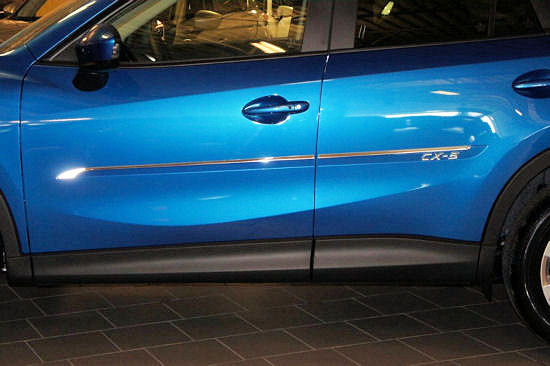 Is it easy to install?
Yes, both styles come adhesive backed for simple peel and stick application. The Universal U-Cut styles will also require cutting to length, which is easily done with simple cutting tools like a good sharp utility knife. The Pre-painted/Pre-cut styles are ready to go out of the box. Simply prep and clean the area where you want to place them, peel off the backing and stick in place. It's so easy to do at home with no need for additional expense taking it to a body shop.
What will it cost?
Adding body side moldings is exceptionally affordable. The actual cost will vary depending on the size, style and type you choose. Regardless of these variables, the cost of adding body side molding is significantly less than repairing the damage they are designed to protect against.
Conclusion:
Body side moldings are a great way to protect the sides of your vehicle from those annoying parking lot dings. We offer a great variety of moldings which can provide everything from an OEM to a full on custom appearance. With so many options available and exceptionally easy installation, they are the perfect solution for protecting any vehicle be it a new car, older car or classic restoration.
---
RECEIVE A 10% DISCOUNT ON ANY
BODY SIDE MOLDING TRIM!
Enter Coupon Code: BLOG10 when placing your order.
"UNIVERSAL U-CUT STYLES"

---
"PRE-PAINTED/ PRE-CUT STYLES"