Ram Promaster Van; Here's a Stylish Way to Prevent Front End Damage!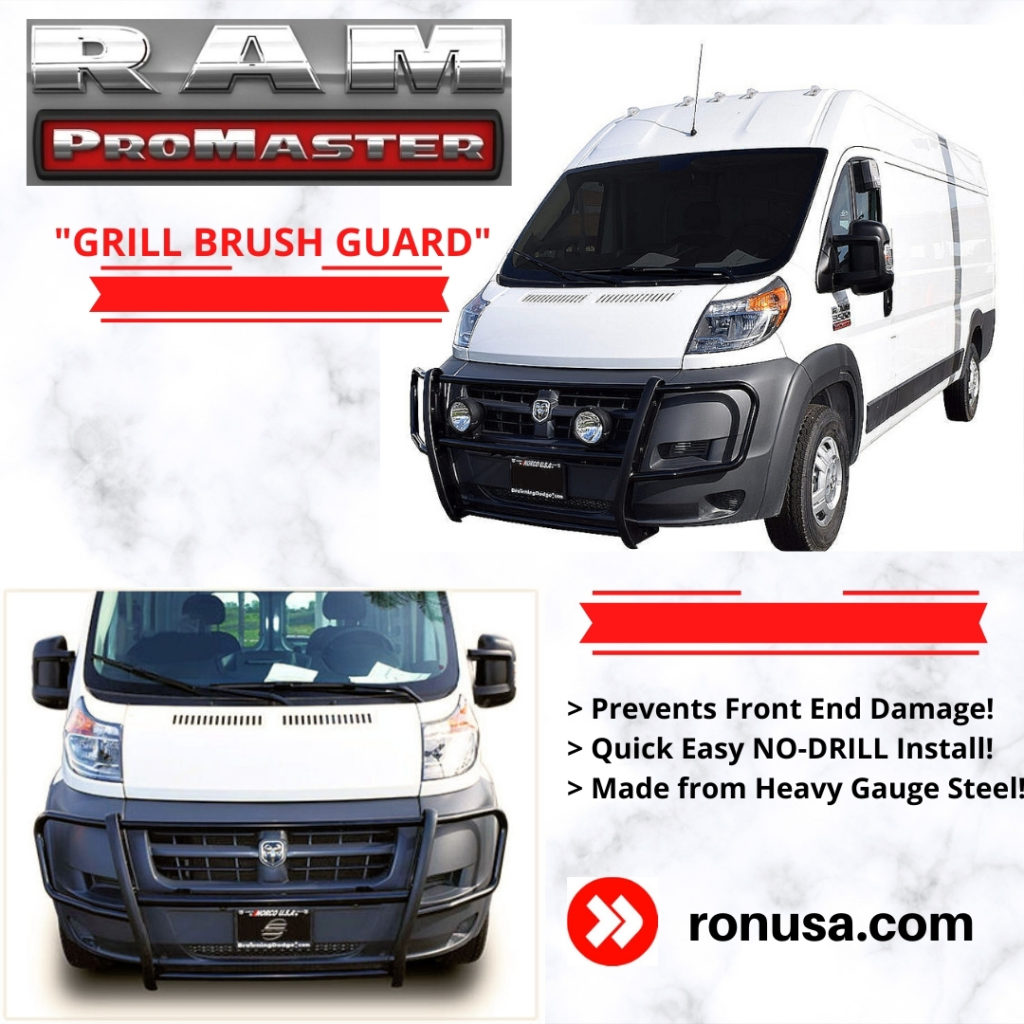 You know the Ram Promaster is one mighty tough and highly dependable workhorse of a van.  After all, it is designed to haul cargo, tools & equipment, and just about everything imaginable.
So, what could you POSSIBLY to your Ram Promaster Van that will make it tougher?
A grille guard!
This accessory is also called a "brush guard", but either way, your Ram Promaster Van needs one for these 5 reasons:
They'll protect your Ram Promaster Van from damage!
No matter how tough your Ram Promaster Van is, the last thing you want is road debris or an accident to ruin the front end.  Consider a grille guard to be like a facemask for your van.  Just like football players protect their faces from damage with a facemask during a football game, you can protect your van's "face" out on the road!
They'll protect what's under the hood, too!
Damage to your hood is bad enough.  But things get even worse when you wind up with damage under your hood.  For example, even a minor crash can damage your radiator — and wind up costing you hundreds of dollars in repairs. 
Luckily, a brush guard will offer just as much protection to your radiator, engine, battery, and everything else that lives underneath your hood!
They look cool!
Most things that offer protection aren't known for their style.  Luckily, grille guards can look awesome.  Thanks to it's highly durable black powder coated finish; special headlight design; and pre-drilled holes that allow you to easily add auxiliary lighting to your grille guard. Your Ram Promaster Van will look rougher and tougher than any work van out on the road!
They're super easy to install!
Thanks to it's welded 1 piece design in which everything is already assembled for you; the grille guard easily bolts to the existing holes in your frame underneath your vehicle. If you know how to operate a socket wrench; then you can easily install this item!

5. They don't cost a fortune!
You need not worry about breaking your bank account or budget since this grille guard is really inexpensive than compared to major damage and or replacement of your van!
In closing summary; a grille guard for your Ram Promaster Van is a very wise investment that will pay huge dividends in the long run. So what is keeping you from upgrading and also improving your Ram Promaster Van?
---