What are the Best Truck Accessories to Have?
No matter what you use your truck for – work, adventure, or just day to day living – having the right accessories and parts is crucial to your state of mind. There are many truck accessories available for nearly everything you can think of, from making your truck more practical for work to exhaust systems and performance upgrades that will take your sweet ride to the next level.
There are also lots of parts out there to trick out your truck and help you get the most out of your truck.
Here's our list of Top Truck Accessories:
---
"DECKED TRUCK BED DRAWERS"
DECKED drawers are designed to sit right above your wheel wells, giving you secure storage in your truck bed while still allowing you to haul up to 2000lb of cargo on top. Dramatically increasing the available surface area of your truck bed, the full-bed length drawers roll out easily to reveal your tools and gear organized and safe, meaning you never have to crawl, reach or jump into your truck bed again.
The DECKED Drawer System is manufactured from a galvanized steel frame in-molded to a High-Density Polyethylene skin. This industrial-grade HDPE is weather-resistant, and can withstand extreme temperatures and chemicals. Our cargo carrier system is weatherproof and dust resistant. DECKED has an unmatched industry standard strength-to-weight ratio of 10:1 and was made with adventure in mind.
One of the best parts about the DECKED system is that it simply attaches to your truck bed tie downs, meaning that for most vehicles no drilling is required. Removal and reinstallation only takes a matter of minutes, and the drawer systems are shipped free right to your door.
We have DECKED systems that can fit most truck models. Whether you're driving a Toyota, Ram, Ford, or Chevy pickup, we have a system to fit your needs.
SHOP OUR DECKED SYSTEMS NOW!

---
TONNEAU COVERS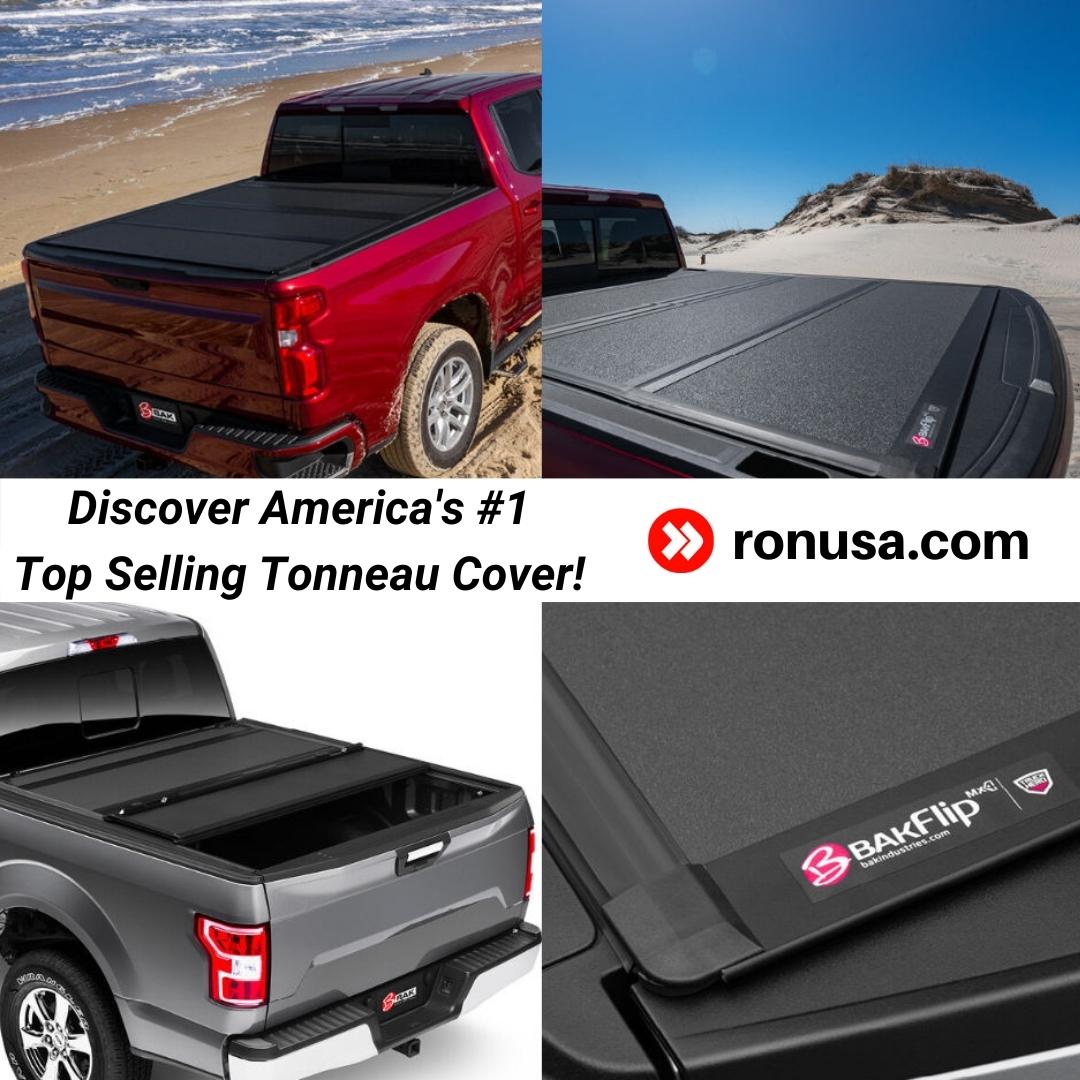 A tonneau cover is a great addition to your truck. It is essential to protect your items from rain, snow, hail and debris. Many tonneau covers feature locking systems to help protect against harsh conditions as well as thieves. Whether you choose a roll-up, tri-fold, or painted style, a good tonneau cover can really add to your pickup truck's look – giving it a sleek and aggressive edge, helping it to stand out from the crowd.
SHOP OUR TONNEAU COVERS NOW!

---
BED LINER/BED MAT
As bed accessories go, bed liners are one of your best investments to keep your truck in great condition. Keep your truck bed protected from minor damage and scuffs with a bed liner/bed mat. For complete protection, choose a bed cover made for your truck bed, resulting in total surface protection from spills, dirt and heavy cargo.
Benefits of a bed liner:
Protect surfaces from dirt and heavy cargo.

Protect against scuffs.

Complete protection for flooring.
---
CARGO NET
If you don't have a tonneau cover, stretching a cargo net across the bed can keep your stuff where it should be – inside your truck. It's easier and more secure than trying to tie everything down. We've all seen THAT truck on the highway, careening from lane to lane with a pile of boxes or a shifting load of pipes.
Benefits of a cargo net:
Protect surfaces from dirt and heavy cargo.

Protect against scuffs.

Complete protection for flooring.
---
BED RAILS
Bed rails are a fantastic way to add extra bold styling and extra protection to the top of your truck bed. They not only look great, but are functional too! They can also act perfectly as additional tie-down points for securing bulky cargo in your truck bed.
Benefits of bed rails:
Protect surfaces from dirt and heavy cargo.

Protect against scuffs.

Complete protection for flooring.
---
FLOOR MATS
Keep your floors in pristine condition with a floor mat to prevent dirt and spills from ruining your truck's floors. Floor mats come in a range of materials that can increase protection and help keep your truck looking great. For true customization, we also offer floor mats with custom logos and lettering that will truly enhance your truck's interior to that next level.

(CLICK HERE TO SHOP OUR CUSTOM LOGO FLOOR MATS NOW)
(CLICK HERE TO SHOP OUR ENDURA FLOOR MATS NOW)
---
STEERING WHEEL COVER
Yep, with a nice steering wheel cover, you can easily add comfort to your hands while making your ride stand out. Best of all they are available in many different styles.
SHOP OUR STEERING WHEEL COVERS NOW!

---
SEAT COVERS
Available in a range of colors and designs, seat covers are a great way to keep your truck clean and tidy while also giving it a fresh look.
SHOP OUR CUSTOM SEAT COVERS NOW!

---
RUNNING BOARDS AND SIDE STEP BARS
Make your truck even more accessible and attractive with a good set of running boards. A good set of side step nerf bars will allow for easy entry in and out of your truck, while also providing protection against any nicks or dents along the way.
SHOP OUR SIDE STEPS NOW!

---
GRILLE GUARD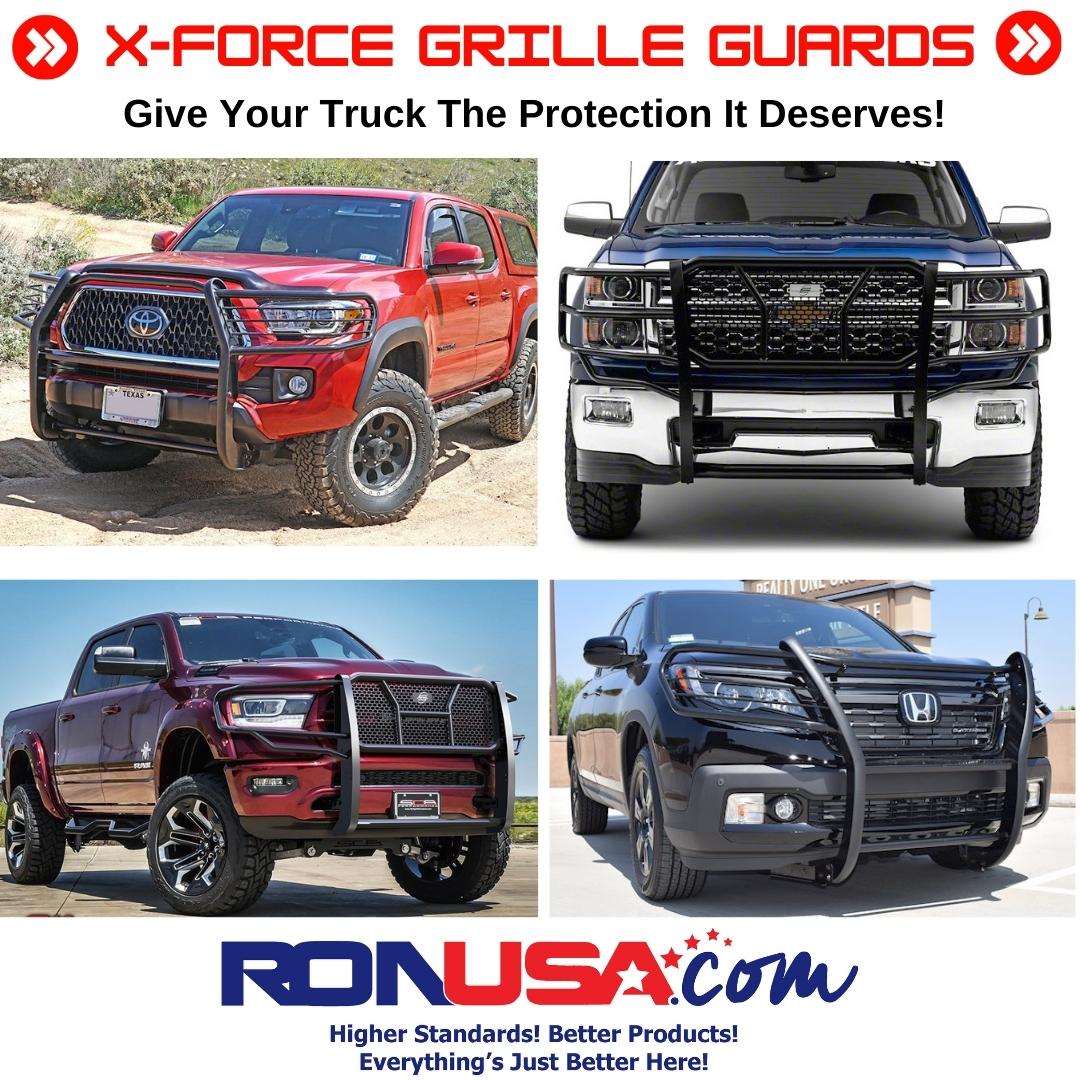 If you're looking to turn heads with your truck and stand out from the crowd, consider investing in a grille guard. Besides adding that rugged off-road look to your truck, a grille guard serves as great protection for your truck's front end.
SHOP OUR GRILLE GUARDS NOW!

---
FENDER FLARES
Fender flares help to protect your truck from all that dirt and mud your wheels throw up, and they come in a variety of stylish looks. Get them painted to match your truck or a contrast color for a sportier look.
SHOP OUR FENDER FLARES NOW!

---
TRUCK ROLL BAR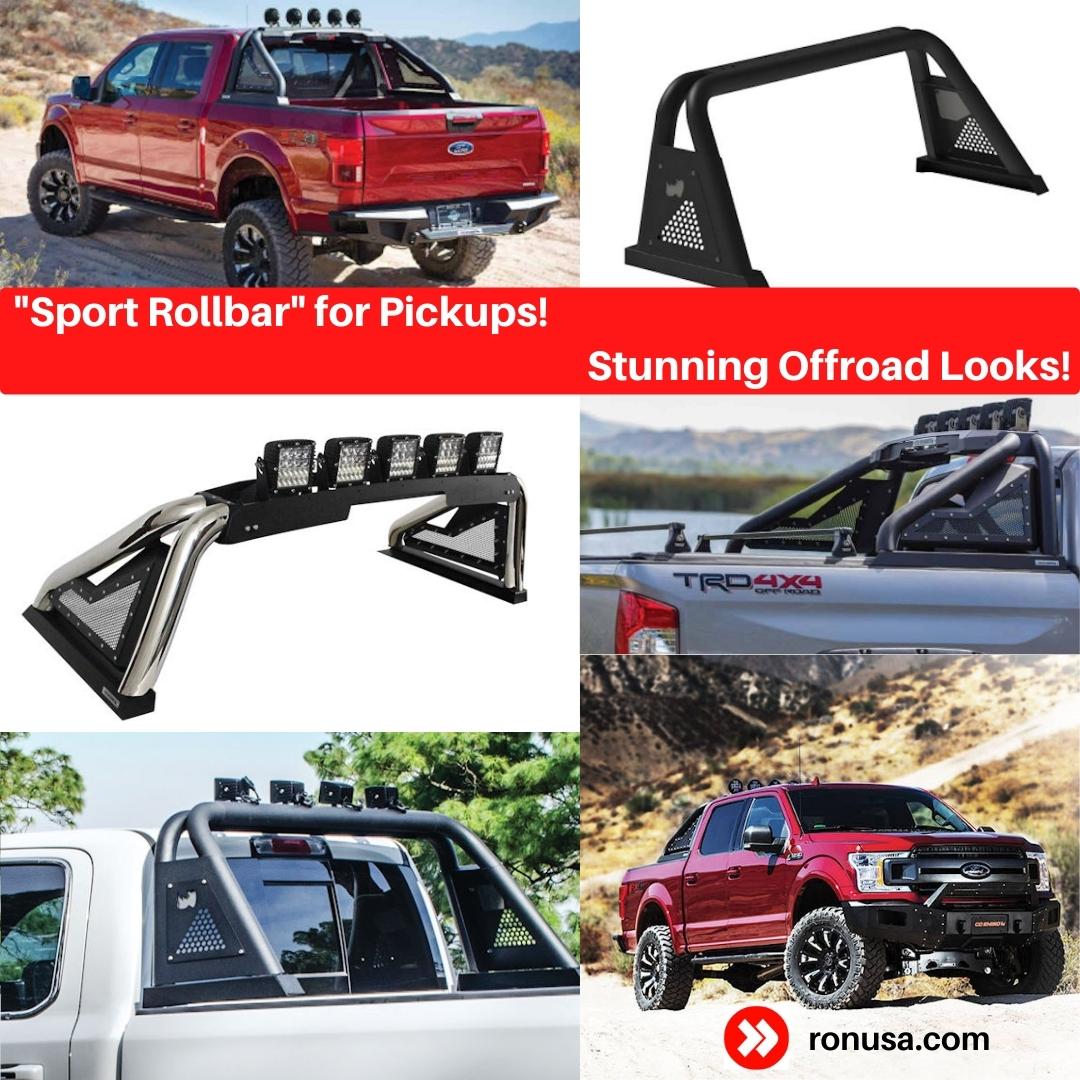 A truck roll bar easily adds that truly rugged off-road look to any pickup, while providing roll-over protection. Also by adding additional lighting on top of the roll bar it will greatly increase your night visibility.
SHOP OUR TRUCK ROLL BARS NOW!

---
HEAVY DUTY BUMPERS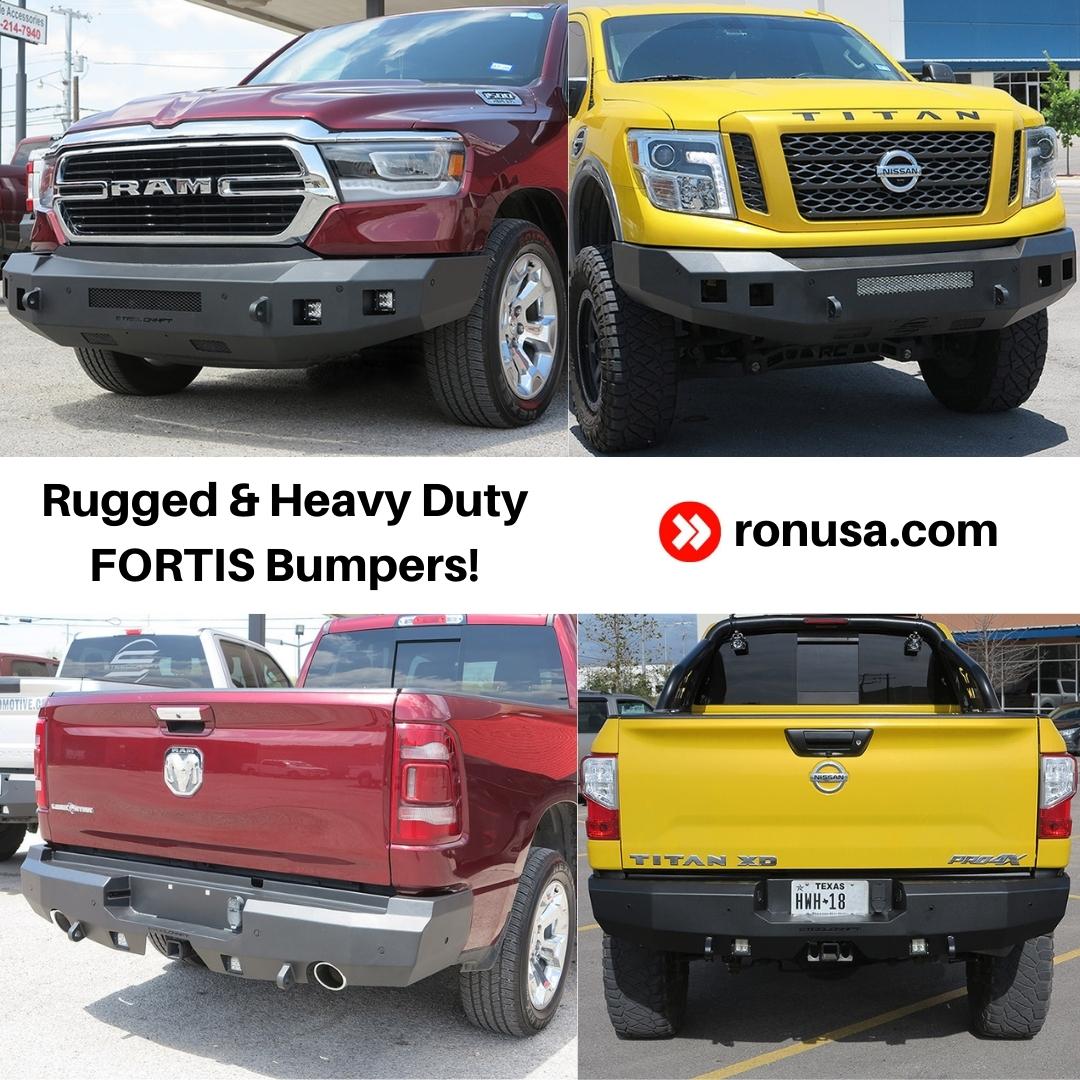 Easily replace your existing factory bumper with a heavy-duty bumper that is truly designed to handle the most rugged tasks.
SHOP OUR TRUCK BUMPERS NOW!

---
WINCH
Never get stuck again when using one of our heavy-duty winches. Whether you are stuck in mud, snow, ice, or on a deep cliff surrounded by rocks, you can be assured that you will be able to recover your vehicle in a very safe manner. Available in "UNIVERSAL MOUNT" or "PORTABLE" Types!

SHOP OUR WINCHES NOW!

---