What's the Best Overall Camping Stove? It's a Skottle!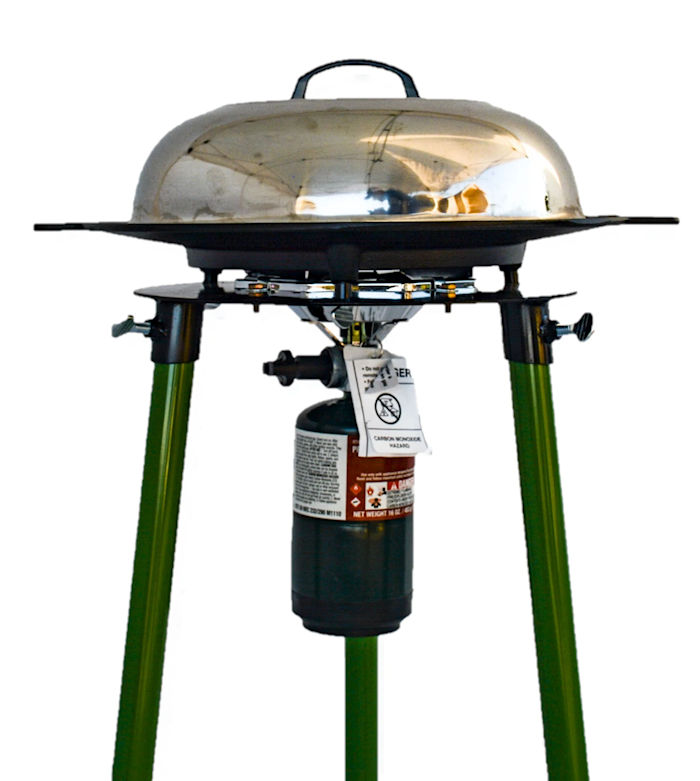 ---
Just because you are camping does not mean that you can't enjoy some delicious meals. The Skottle camping stove allows you to cook the same way you do at home, even while camping in remote destinations. Its unique and versatile design lets you cook a variety of dishes all on one platform.
When the farmers in South Africa needed a way to cook outdoors in the fields, they found a solution. They used an old disc plow and attached legs to it. This gave them a nice, sturdy cooking surface that they could carry with them. They called it a skottle, and these skottles are still frequently used today in South Africa.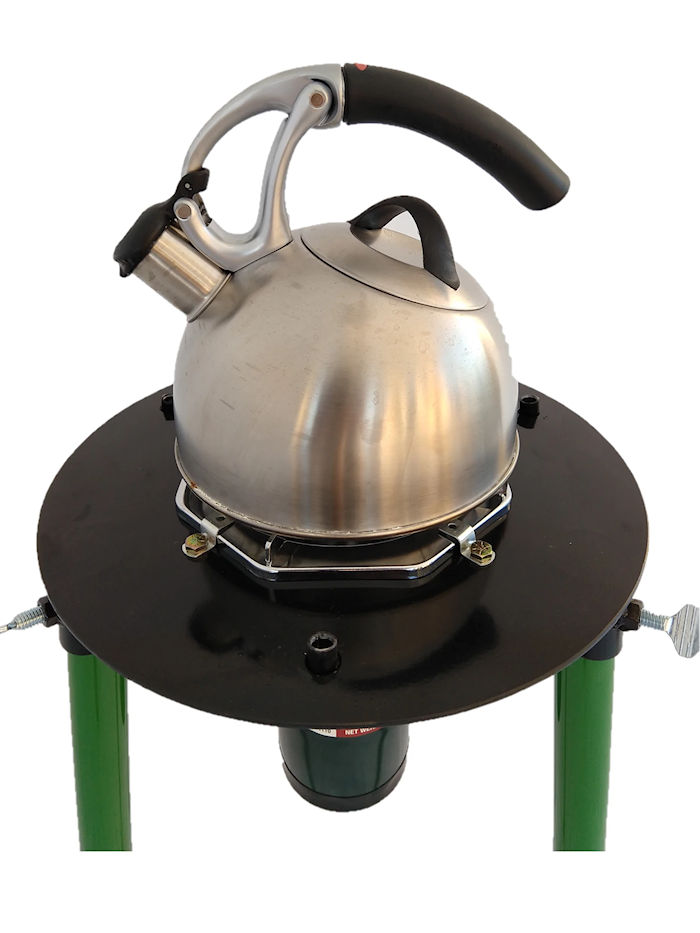 ORIS has taken the basic skottle design and developed a refined version that you can use on all your camping trips. It is extremely easy to transport, yet one of the most versatile camping stoves available. No longer does your camping stove have to be just a single burner that you can place a pot on. The Skottle camping stove gives you a variety of options in cooking surface and configuration.
This stove comes equipped with a 17-inch cast iron cooking surface. This allows you to cook eggs and bacon for breakfast and chicken fried rice for dinner. The combinations of food that you can cook on this surface are almost endless. You will never get bored with camping food again. Put on your chef's hat and try different recipes on the cast iron.
Need to boil water for coffee or cook something in a pot? No worries! The cast iron cooking surface is easily removable without any tools. Simply remove the thumb screws and you can take it right off. Now you have a single burner for use with pots and pans. And if you're cooking for a crowd, the ORIS Skottle can handle that too.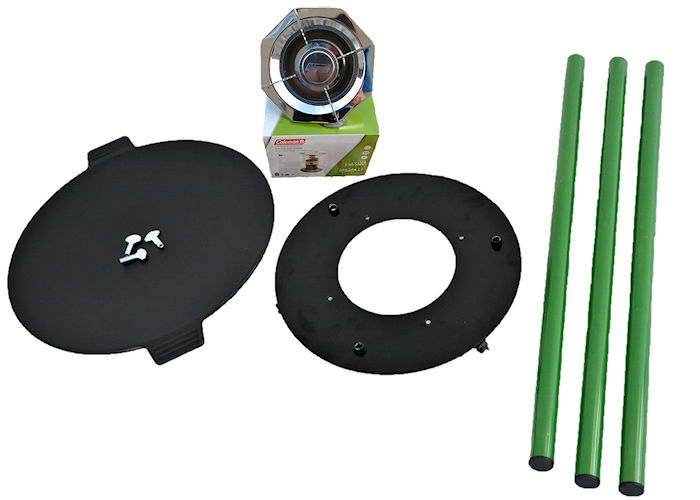 The stand is made from heavy gauge steel and can support up to 150 pounds. You can easily cook a large pot of chili or stew for all your friends and rest assured that the Skottle camp stove is up to the task. The whole campground just may end up at your campsite when they smell the delicious aroma coming from your stove.
The ease of transportation of the Skottle make it a great solution for any type of camper. You could keep it in an RV or travel trailer and set it up at camp. The Skottle is also so easy to carry that you could easily take it hiking and set it up on the trail for a meal or warm snack. The legs are removable, and it comes with a carrying bag, so it is very easy to setup or breakdown.
This stove stands 32" tall which makes using the stove quite easy. No bending or hunching is required while using the Skottle because it sits at a nice height. Unlike some camp stoves, you will not have to worry about finding a table or other surface to place the stove on. Simply attach the legs, and you have a great sturdy cooking area ready to go.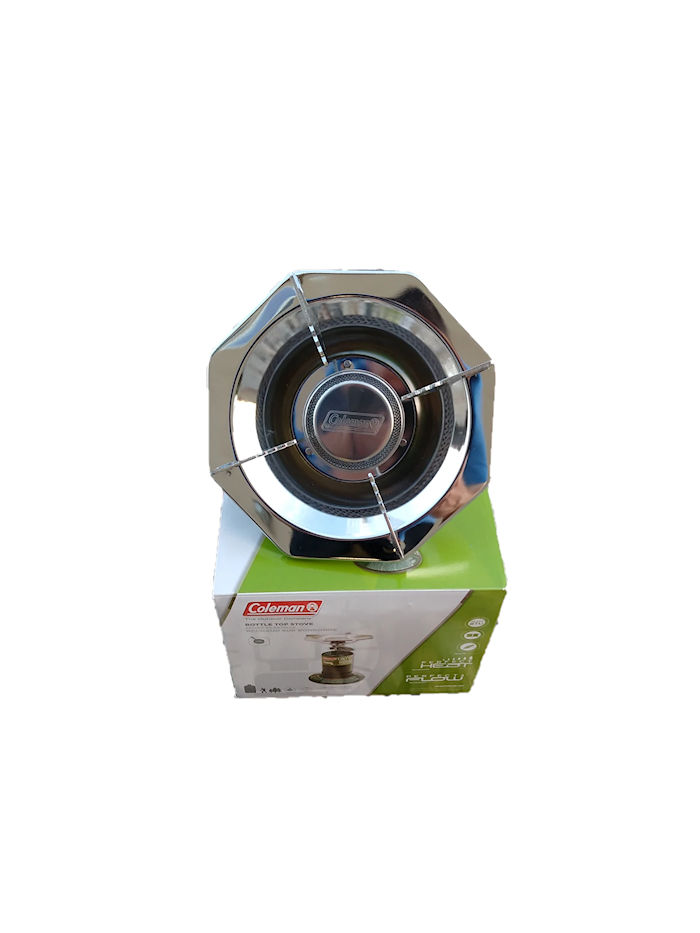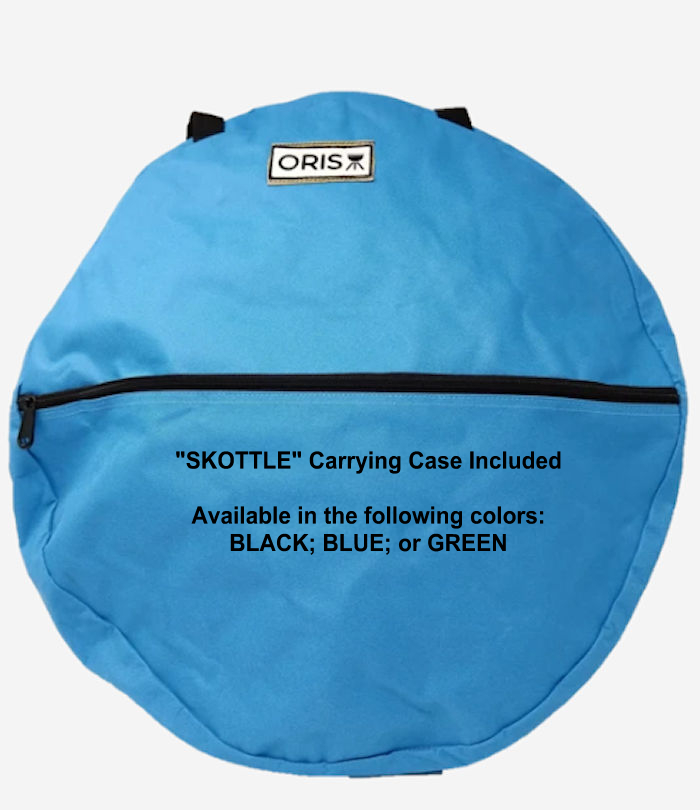 You will find that the Skottle has plenty of power to get the toughest cooking jobs done as well. The single burner has an output of 10,000 btu, so you will have a stove hot enough to cook whatever you can throw at it. It will get the job done quickly too. When your friends and family are hungry, you need a stove that can get dinner on the table quickly. The Skottle can do just that.
The ORIS Skottle is proudly made in the USA and includes everything that you need for a great cooking experience at your camp. It comes with the stand, single burner, lid, carry bags, and the Skottle attachment. The carrying bags are even available in three different colors – black, blue, or green. You will be the envy of the campground with your ORIS Skottle as the smell of your delicious meal wafts through the air. The only thing you will need to do is get a propane bottle, and you will be ready to cook some delicious creations! You will be excited to try new recipes on this stove. Happy camping!
---